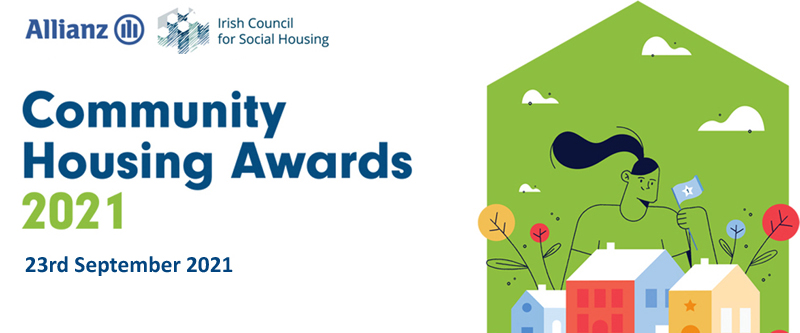 The ICSH Allianz Biennial Community Housing Awards showcase the innovative and sustainable social housing housing projects that our approved housing bodies members and local authority partners continue to deliver for communities across the country to meet growing housing demand.
ICSH Allianz Community Housing Award Winners 2021
Click here to view the winners and all 30 Community Housing Awards 2021 entries
Overall Winner: Cork City Council – Competitive Dialogue Procurement Process
Public Choice Award Winner: Collaboration: Wicklow Councty Council and Tiglin
Homelessness: Cope Galway
Most Creative Supply: Cork City Council – Competitive Dialogue
Housing for People with Disabilities: Peter Triest
Housing For Families (Large): Dun Laoghaire Rathdown County Council
Housing for Families (Small): Roscommon County Council
Collaboration: Wicklow County Council and Tiglin
Housing for Older People: Fold Housing
Community Integration: HAIL Housing
Regeneration: Clúid Housing
Housing Management: Clúid Housing
Contribution to Housing 'Margaret O Leary': Pauline McNamara (Cuan An Chláir)
ICSH Allianz Community Housing Public Choice Award 2021
Projects shortlisted for the ICSH Allianz Community Housing Awards 2021, on 23rd September 2021 competed in our first ever Public Choice Award 2021. We were very excited about this category award as it gives members of the public an opportunity to support a participating project that they feel is most deserved of recognition.