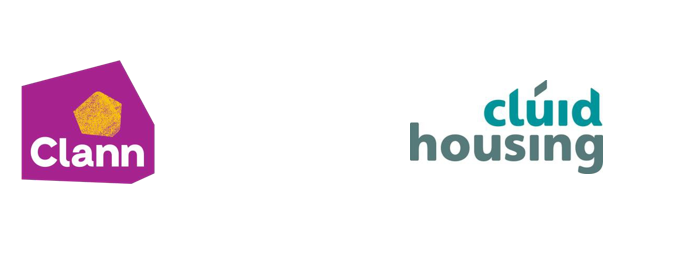 Location Management area will cover the North East region of the country – Most suitable office location to be agreed with candidate
Reporting to Clann Housing Manager
Responsible for Scheme Managers, Tus/C.E. Scheme Placements, and Voluntary staff
Salary €45,509 – €58,894 per annum
Contract Permanent
Probation6 months
Hours35 Hours per week
Leave 22 days (+ 3 designated days Christmas Week)
Travel The post requires a valid driving licence and use the use of a car for business purpose Mileage Allowance Operates.
Clúid Housing is the largest approved housing body (AHB) in Ireland, providing over 9,500 affordable, high quality homes to people in housing need. Our vision is for a society where everyone has a great place to live. This will be achieved by providing quality housing and services to enable people to create homes and thriving communities.
Clúid Housing is an equal opportunities employer and proud to have been recognised as a top employer in Ireland. At Clúid Housing we firmly believe that our success is down to our dedicated and growing staff body working in every corner of Ireland. Our company is made up of talented people who bring enthusiasm, confidence, expertise, professionalism and respect to our business. Our staff consistently work towards achieving our vision of creating a society where everyone has a great place to live.
Our employees benefit from a great working environment, great learning opportunities, a supportive management team and an extensive benefits package:
Competitive Remuneration
Excellent & Continuous Training
Development Opportunities
Flexible Working Arrangements
Access to an Employee Assistance Programme
Excellent Employee Benefits
If the above appeals to you, then keep reading…..and remember Clúid Housing is proud to be an equal opportunity employer.
The Clann Housing Services Coordinator
This is an exciting opportunity for an ambitious individual to make an important contribution to the reorganisation and transformation of Clúid's Age Friendly Housing Service – Clann, managing a team to deliver core housing management to specialist and mainstream housing residents. The team is part of the Housing Services Department which delivers core front line housing management services. Also within the Housing Services Department is the Dublin-based Contact Centre, where staff are the main point of contact for all tenants and business enquiries and support many areas of Clúid's work.
The Coordinator will ensure the delivery of a high quality housing management service to residents on specialist schemes and to older people in mainstream housing. You will work closely with all Clúid departments such as Property Services, Finance and etc. Clúid's Clann Service is national with specialist schemes in Cavan, Laois, Cork, Donegal, Dublin, Galway, Kerry, Limerick and mainstream housing in every county.
Role: Clann Housing Services Co-Ordinator
Role Overview:
As Clann Service Housing Coordinator, you will manage a team of Clann Scheme Managers to provide excellent Core Housing Management and Clann Services. You will work with the Clann Housing Manager to develop and grow the service. You will work with scheme based staff to develop skills, knowledge and understanding to provide a service which enables residents to remain living independently in their own homes for as long as they are able and wish to do so. You will work with staff to ensure the delivery of a friendly, welcoming and resident-orientated service is provided. You will place a strong emphasis on understanding and delivery of customer requirements.
Reporting to:
Clann Housing Manager
Key Duties and Responsibilities
Core Services – Housing
Support and coach Clann Scheme Managers in the provision of the core housing services of Income, Allocations, Voids, Tenancy and Facilities Management, Community Involvement and Estate Development
Ensure that Clúid delivers high quality services across all housing core service areas which enable Clann Scheme Managers and tenants to manage and sustain tenancies and contribute to local communities
Source grant funding and resources to improve scheme common areas and facilities
Manage the budget for common areas on specialist schemes in your area
Core Services – Older People
Support and coach Clann Scheme Managers on the provision of the core services of information, advice, support, adaptations, assistive technology, security, social activities, community involvement and safeguarding to support the heath, well-being and independence of residents in specialist and mainstream housing
Co-ordinate the offer and deliver core services in mainstream housing with Clann Scheme Managers and with the assistance of Housing Officers
Ensure Clann Scheme Managers provide excellent Clann core services which meet the purpose of enabling residents to remain at home living both independently and comfortably for as long as they wish to do so
With Clann Scheme Managers, build local networks and partnerships which will help residents 'Age in Place'
Source grant funding and resources for social activities, community involvement, education, health and well-being initiatives
Service Transformation
Ensure core services which enable older people to remain independent are delivered in a clear, coherent and structured way
Provide support to the Clann Housing Manager in defining Clann's core service offer with input from your team of Scheme Managers, other relevant agencies as well as residents and their families.
You will manage the development and continuous improvement of Clúid's core service offering to residents in your functional area.
You will set and deliver high levels of performance to meet customer demand.
With your direct reports you will use measures for housing management and Clann core services to understand and improve performance
Growing our Business
Contribute to New Business Assessments to ensure that resident and Housing Services requirements are reflected in the decision-making process
Work with the New Business team to demonstrate to key stakeholders the benefits and level of demand for new specialist housing schemes
Finance/Budgets
Contribute to a sustainable social business with a strong emphasis on value for money.
Target resources most effectively to achieve operational and strategic goals.
People Management
Provide direct reports with support and guidance to enhance their performance and development and maintain a strong understanding of the operational aspects of the business through investing time spent with direct reports within their respective areas of work
Create annual individual Learning & Development plans for the Administration Team to ensure staff have the correct skills and tools to deliver excellent services to the customer and are provided the opportunities to develop and excel in their roles and ensure continual professional development of the team
Ensure that your direct reports work in a safe environment and actively partake in any company wide or team safety and wellbeing activities
Collaborate with HR in relation to Recruitment & Induction to ensure the best candidate/s are recruited, to develop a thorough induction plan and actively manage the probation process for direct reports
Manage & lead team engagement activities
Promote a culture which is supportive of excellent service delivery and meets our vision, mission, and values
Corporate Responsibilities
Ensure all activity is aligned to our values and contributes to the mission of supporting the development of thriving communities
Adhere to all Clúid policies and procedures at all times
To exercise discretion at all times
To fulfil all care and high standards regarding both Clann/Clúid's and your own health and safety obligations
General
Manage your learning and development in line with your role and personal goals
To positively promote the Association in all activities
Any other duties which are consistent with your role
Key competencies required in the role
Data Management & Analytics
Customer Centric (Residents and stakeholders of our service)
Collaboration
Planning & Organisation
Person Specification
The closing date for applications to be returned for this role is 13th September 2022 at midnight
It is anticipated that Interviews for the position will be held on week beginning 19th the September 2022.
Please click here to complete our online application form.
(Please note the application form requires the completion of 5 competency-based questions, advice on how best to answer these questions can be found below)