The Dublin charity, Stepping Stone Accommodation, which provides housing to people at risk of homelessness, has announced that its operations are to be taken on by the national housing and homeless charity, Peter McVerry Trust. Stepping Stone was originally established as House-A-Marriage (HAM) and had its first property in Phibsboro. Since then it has grown its social housing stock to 29 units. The 29 units will continue to be used to offer social housing and all tenants will receive the support of Peter McVerry Trust's Housing with Support service.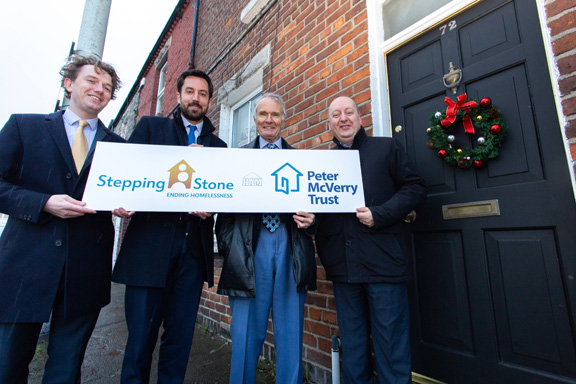 Piers White, CEO Stepping Stone, Eoghan Murphy Housing Minister, Michael Hillary founder Stepping Stone, Pat Doyle CEO Peter McVerry Trust, pictured outside 72 Glengarriff Road, Stepping Stones first property from 1972
Piers White, CEO of Stepping Stone said "As an organisation that was set up in 1972, we have made a huge contribution to the lives of people impacted by homelessness in Dublin. We have offered people affordable, high quality homes that helped people to get back on their feet and offered them the support they needed to move on to their independent, long term home. We are delighted work can continue under Peter McVerry Trust's management. We also believe that there are too many Approved Housing Bodies in the sector, and that greater efficiencies, synergies and impact can be achieved by partnering up with a larger organisation. We would strongly encourage other smaller AHBs to consider this route."
Pat Doyle, CEO of the Peter McVerry Trust said they were privileged to be chosen to carry on that work and that legacy. Just like Stepping Stone, their goal has been to retain these 29 units for social housing and to ensure that the tenants now and in the future receive the supports they need.
Minister for Housing, Eoghan Murphy TD, expressed his confidence that the important work started by the founders of Stepping Stone more than 40 years will be continued as they pass on these properties to the McVerry Trust. Donal McManus, CEO of the Irish Council for Social Housing (ICSH) said the This initiative shows real leadership in contributing to rationalisation in the sector, making services to tenants more sustainable long-term, whilst enabling the Peter McVerry Trust to deliver an expanded social housing programme to vulnerable people.