This year we celebrated our 12th Community Housing Awards in 2023. The ICSH was again delighted to partner with our sponsor Allianz in this exceptional competition to recognise distinction and excellence in public housing design, development and delivery.
The ICSH Allianz Biennial Community Housing Awards offers a platform to demonstrate innovation and sustainability in public housing projects that our approved housing bodies members and local authority partners continue to deliver for communities across the country. The 2023 Awards recognise excellence across eleven individual categories. The ICSH seeks category entries from both urban and rural projects that communicate the diversity of housing delivered by both the local authority and approved housing body sectors. Winners were announced at the ICSH Biennial National Social Housing Conference on Wednesday 18 October 2023 in the Clayton Whites Hotel in Wexford Town.
Community Housing Awards 2023 Winners
[Overall Winner] Embedding Affordability: Dún Laoghaire–Rathdown County Council, Woodside, Enniskerry Road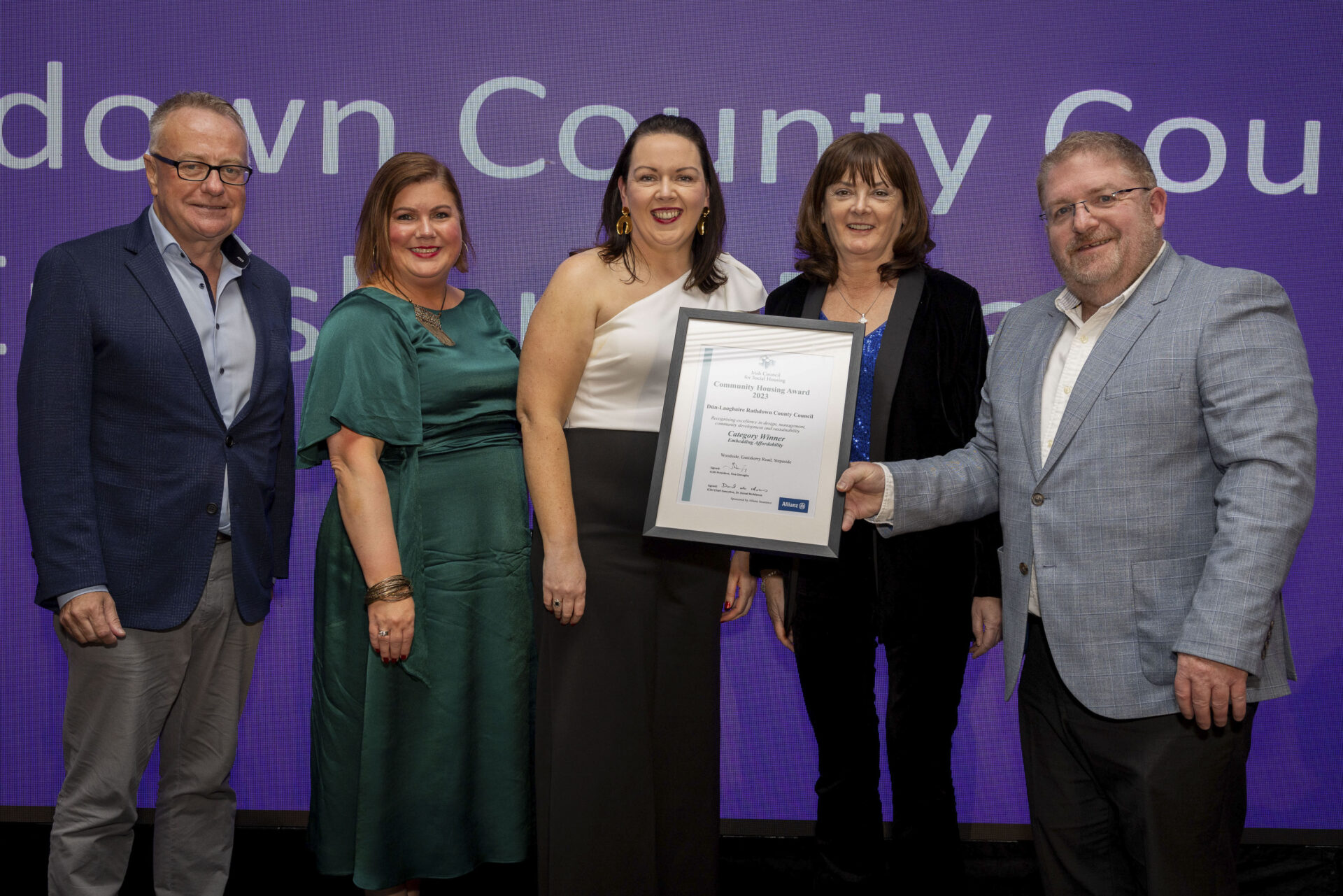 [Public Choice Award Winner] Regeneration & Renewal (restoration project): Thurles Lions Trust Housing Association, Stanwix Village, Thurles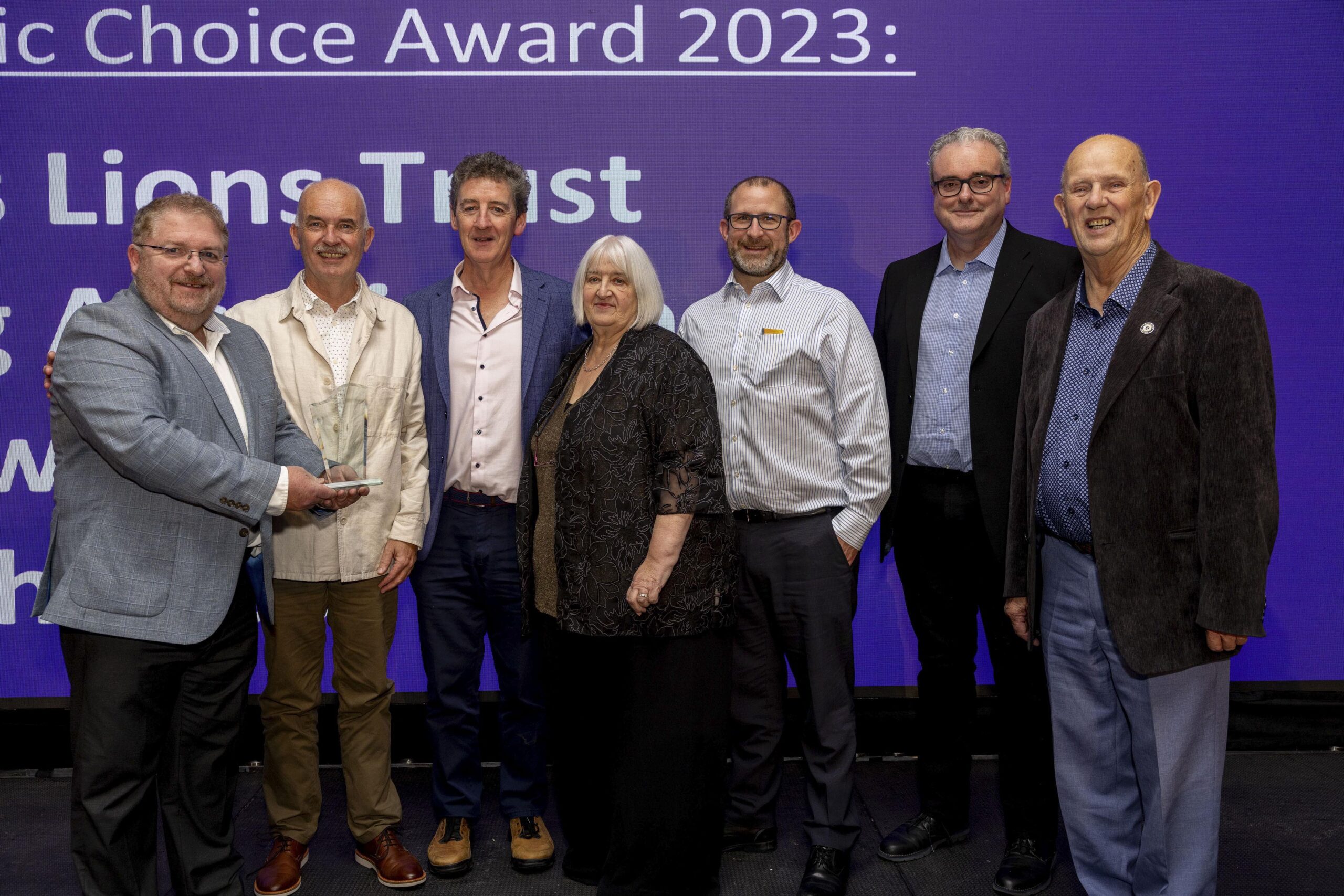 Building Communities: Cooperative Housing Ireland, Halliday Mills, Dundalk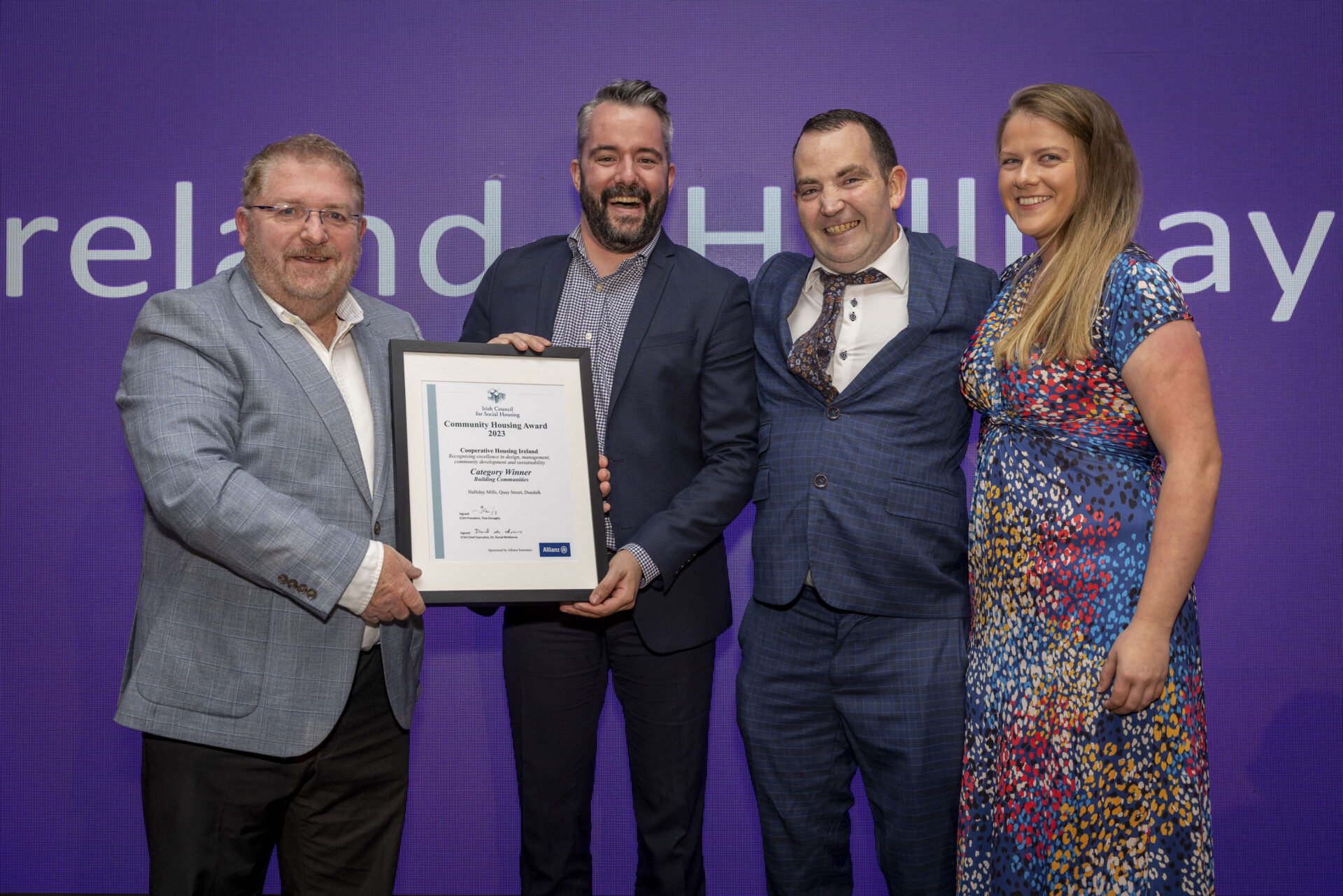 Housing with Supports: Anvers Housing Association, Cloch Cora, Waterford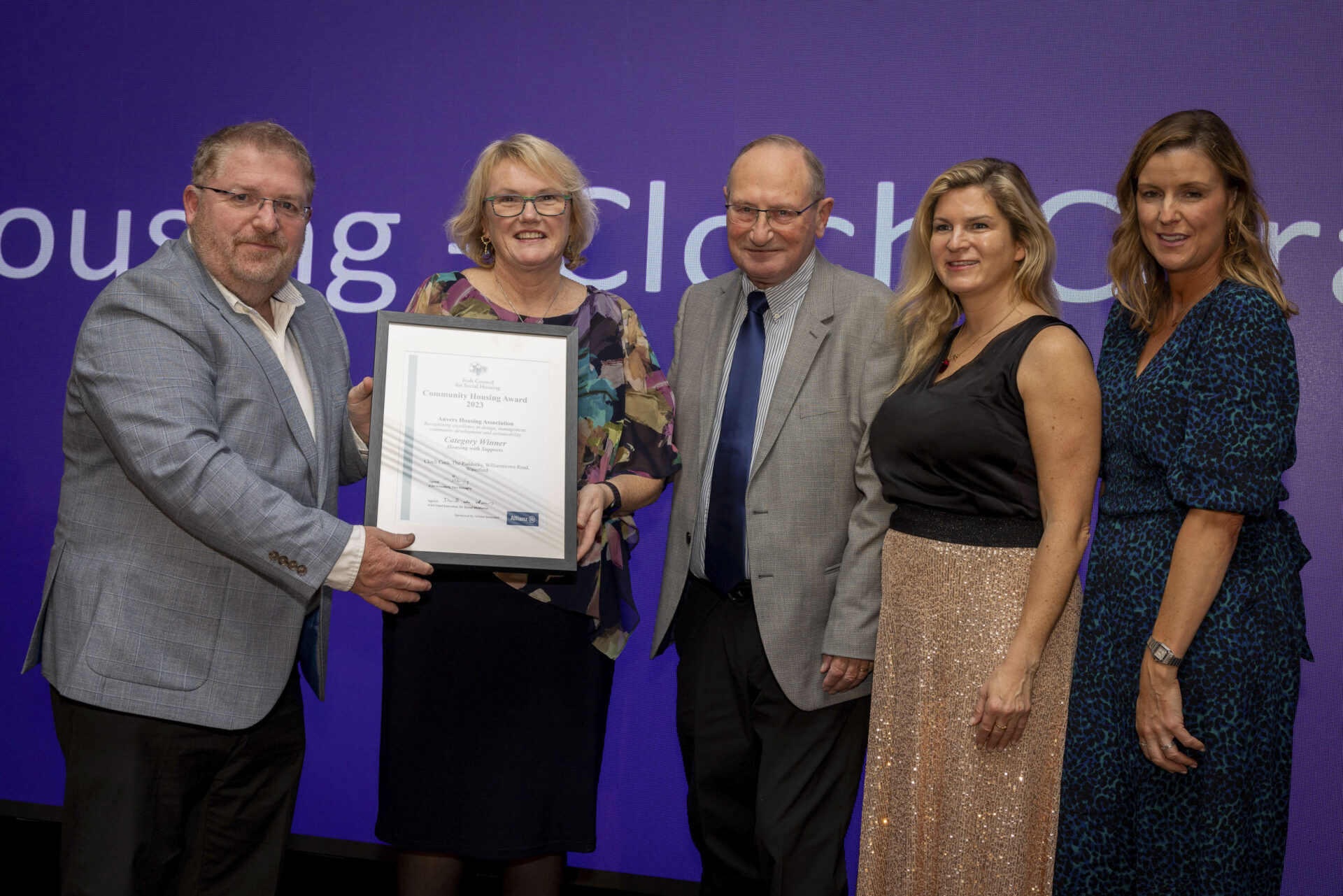 Emergency and temporary accommodation responses: Focus Housing, Covid shielding service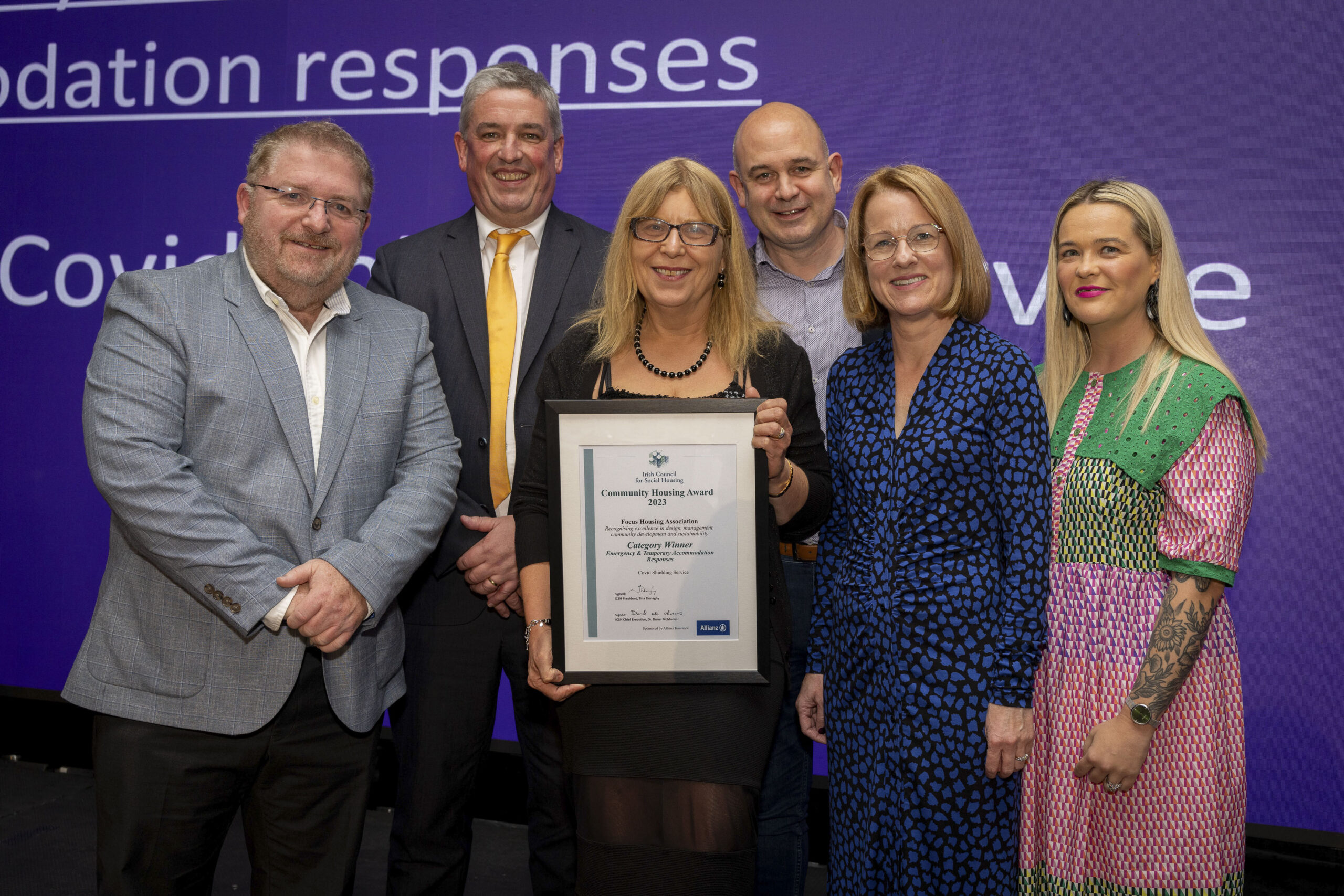 Best Family Housing Scheme (large): Cork County Council, Bundle 2 Social Housing PPP Project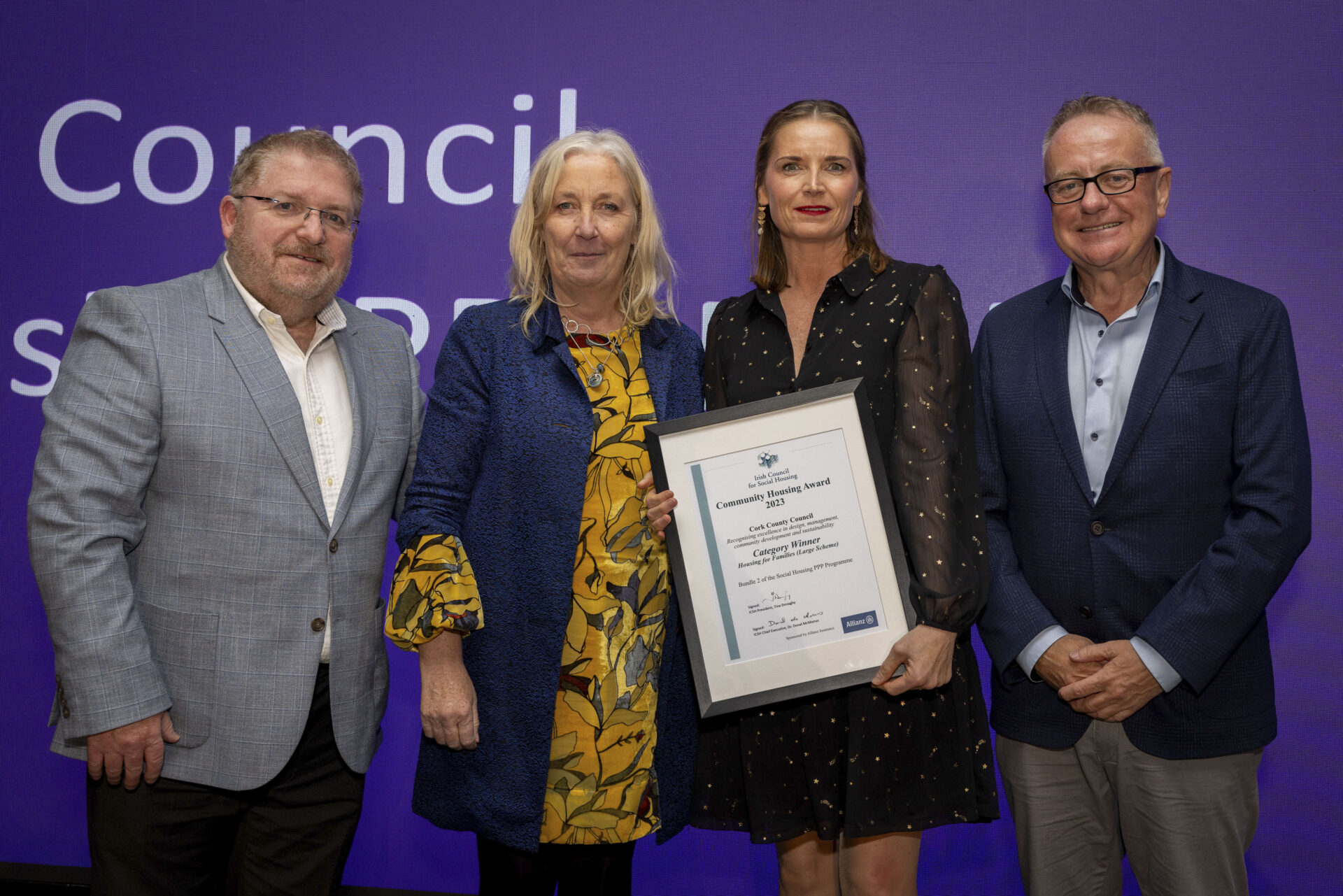 Best Family Housing Scheme (small): Cork City Council, Crann Darach, Montenotte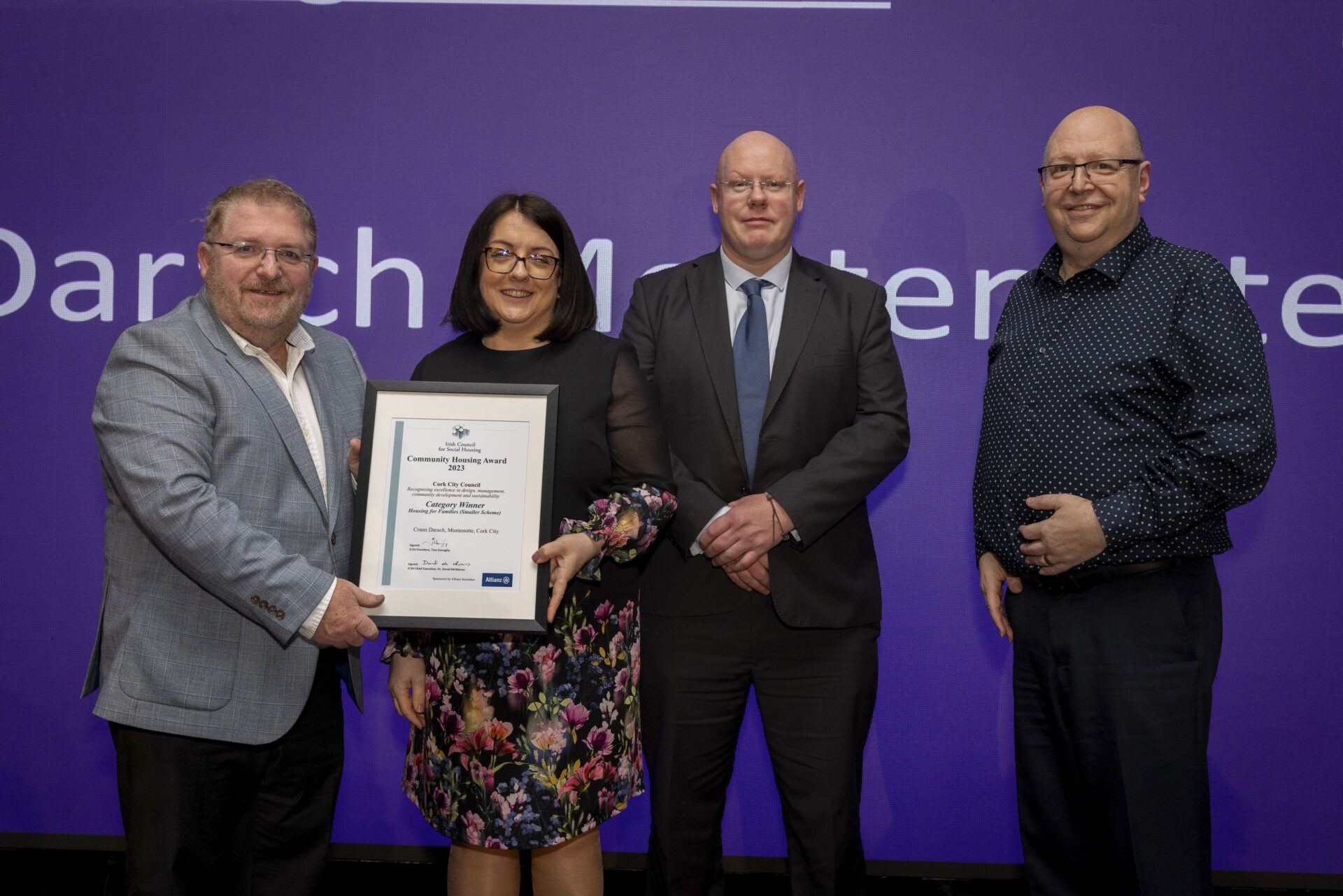 Regeneration & Renewal (regeneration project): Oaklee, Walkin Street, Kilkenny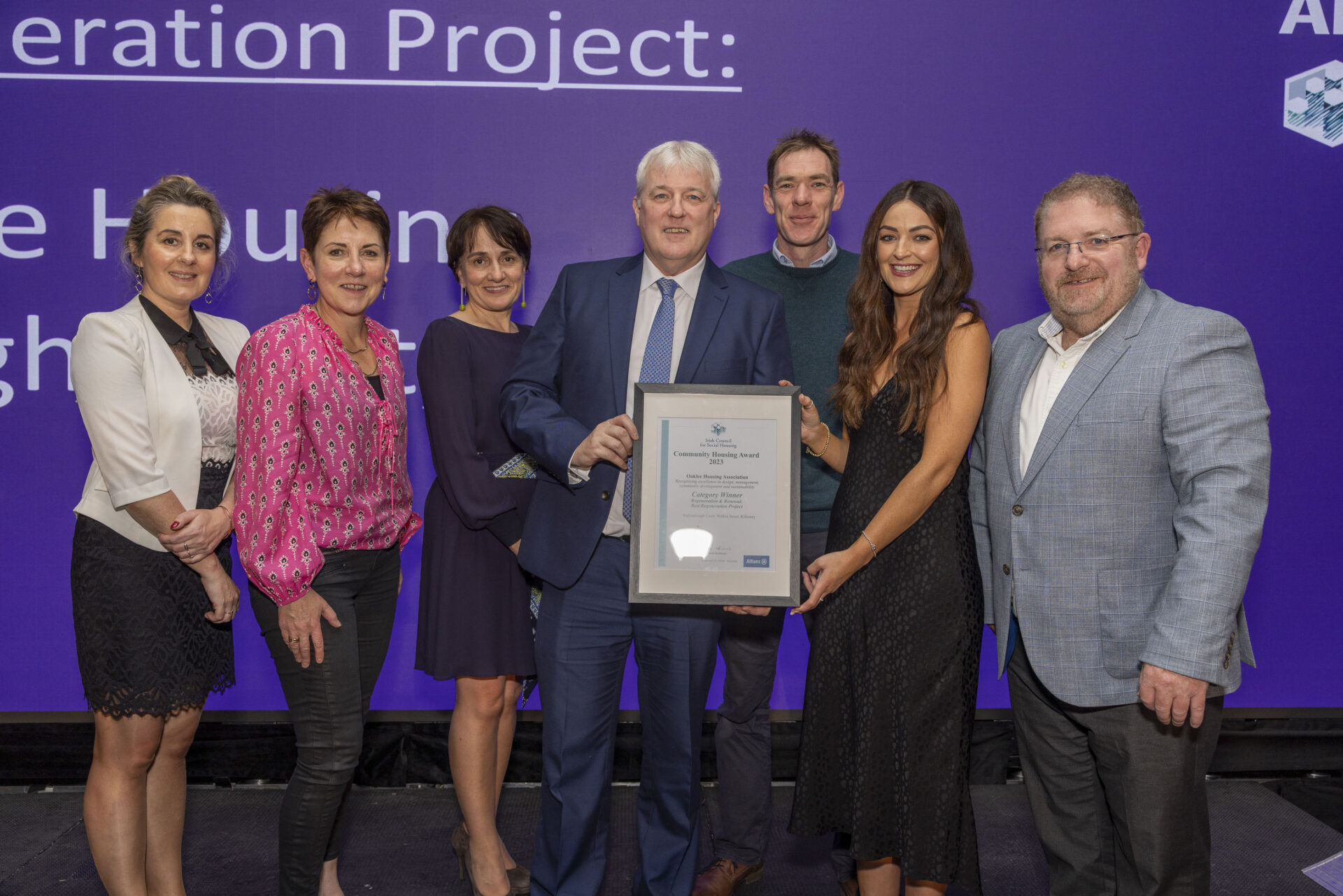 Leading the Energy Transition: Carbery Housing Association, 'RedWoLF' Project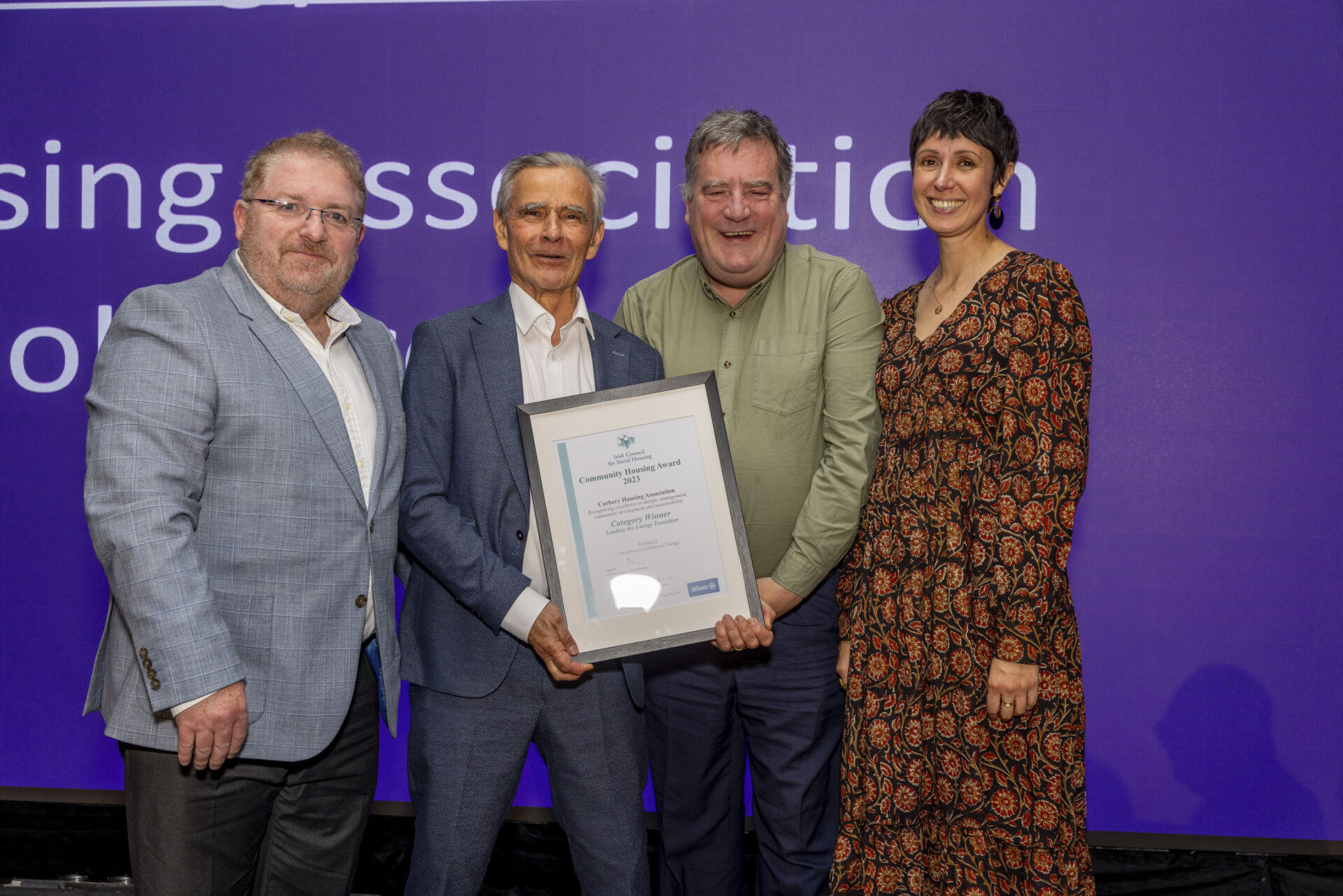 Creative Delivery, Collaboration and Supply: Tuath Housing, The Plaza Building, Park West, Dublin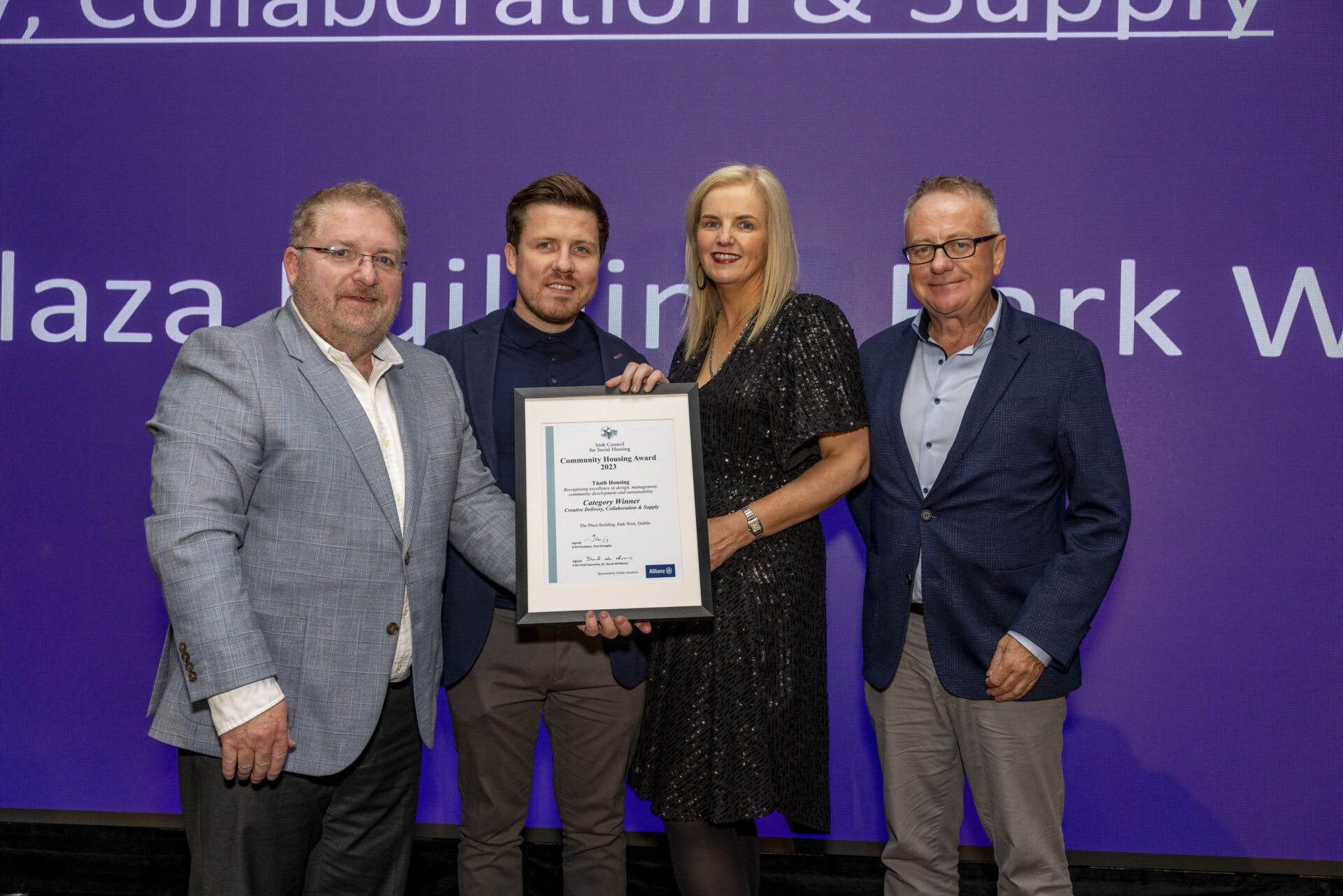 Margaret O'Leary Award for Achievement in Community Housing: Vincent Geoghegan (HAIL Housing) and Lilian McKenna (Enniscorthy Housing Association)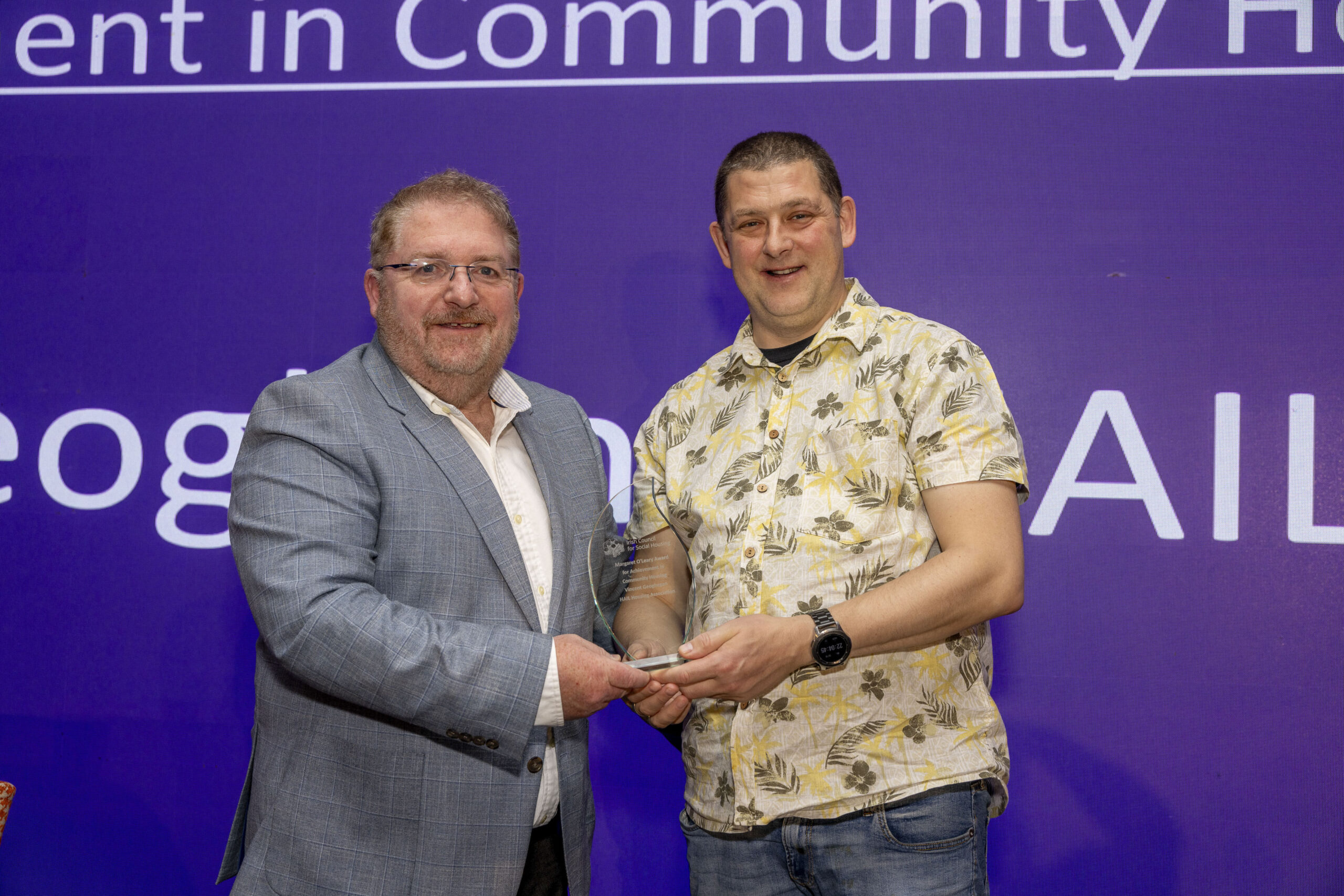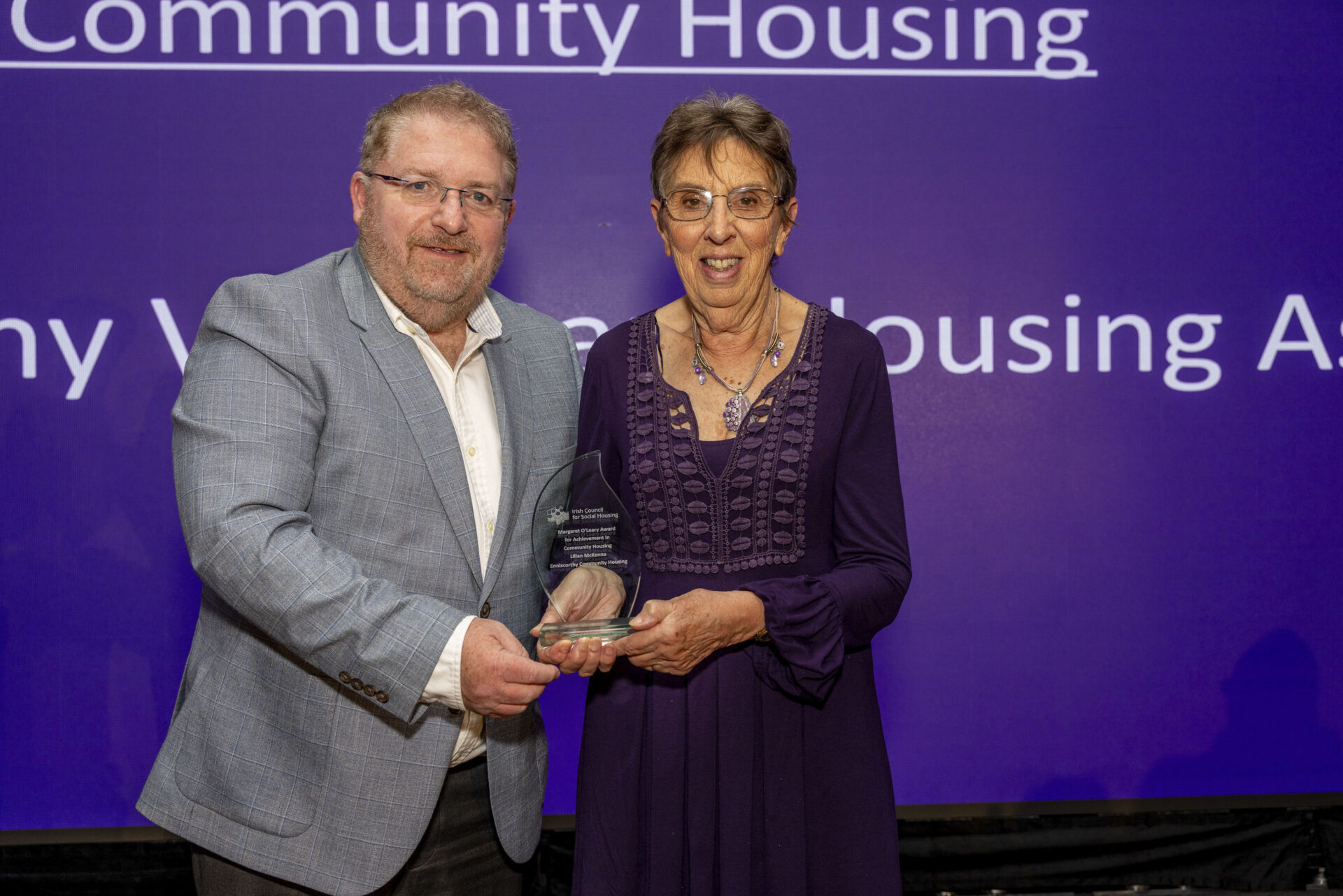 Public Choice Award 2023
Projects shortlisted for the ICSH Allianz Community Housing Awards 2023 are also competed in the Public Choice Award 2023. Following on from the very successful inaugural Public Choice Award in 2021, we're very excited to continue with this category award, as it gives members of the public an opportunity to support a participating project that they feel is most deserved of recognition.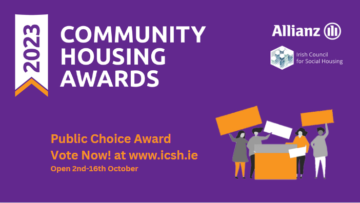 Community Housing Awards 2023 – Shortlist!
The ICSH is very pleased to announce the shortlisted entries for the Community Housing Awards 2023. ICSH staff carried out site visits in-person to complete initial assessments and enable the shortlisting of entries in June & July 2023. All shortlisted entries were then invited to meet with our judging panel in August 2023 to provide a short presentation of their nominated entry.
The 30 shortlisted entries are as follows:
Co-operative Housing Ireland, Halliday Mills, Dundalk
Circle VHA, Quality in Diversity
Clúid Housing, Ballygraigue Court, Nenagh
Tuath Housing, Raleigh Court
Anvers Housing, Cloch Cora, Williamstown, Waterford
Claregalway & District Day Care Centre, Gort na Greige
Focus Ireland, South Circular Road
Co-operative Housing Ireland, Amharc Muileann, Bloodmill Road, Singland, Limerick
Circle VHA, Fairgreen Manor, Dunlavin, Co. Wicklow
Cork City Council, Crann Darach, Montenotte, Cork
Cork County Council (PPP Bundle 2)
Fold Housing, Citywest Village House
Respond, Castleview, Finnstown, Lucan, Co. Dublin
Clúid Housing, Lancaster Gate, Lancaster Quay, Cork
Dún Laoghaire–Rathdown County Council, Woodside, Enniskerry Road, Stepaside, Dublin 18
Cork County Council, Cascade Apartments, Castlelake, Carrigtwohill, Co Cork
Focus Ireland, Grand Parade & Rochford Lane Apartments, Cork City
Kilkenny County Council, Pairc Nua, Castlecomer Road, Kilkenny
Oaklee Housing, Walkin Street, Kilkenny
Peter McVerry Trust, Centenary House, Charleville, Co. Cork
Respond, Rathcoran, Baltinglass, Co. Wicklow
Thurles Lions Trust, Stanwix Village
Tuath Housing, Ellis Court, Benburb St, Dublin 7
Cork Simon, St Joachim and Anne's Building, Anglesea Street, Cork City
Carbery Housing Association, Dun Eala and Cork City
Co-operative Housing Ireland, Newcourt, New Street, Dublin 8
Circle VHA (CU Funding)
HAIL, CARA project – various locations
Respond, Charlestown Place, Finglas, Dublin
Tuath Housing, Plaza Building, Park West