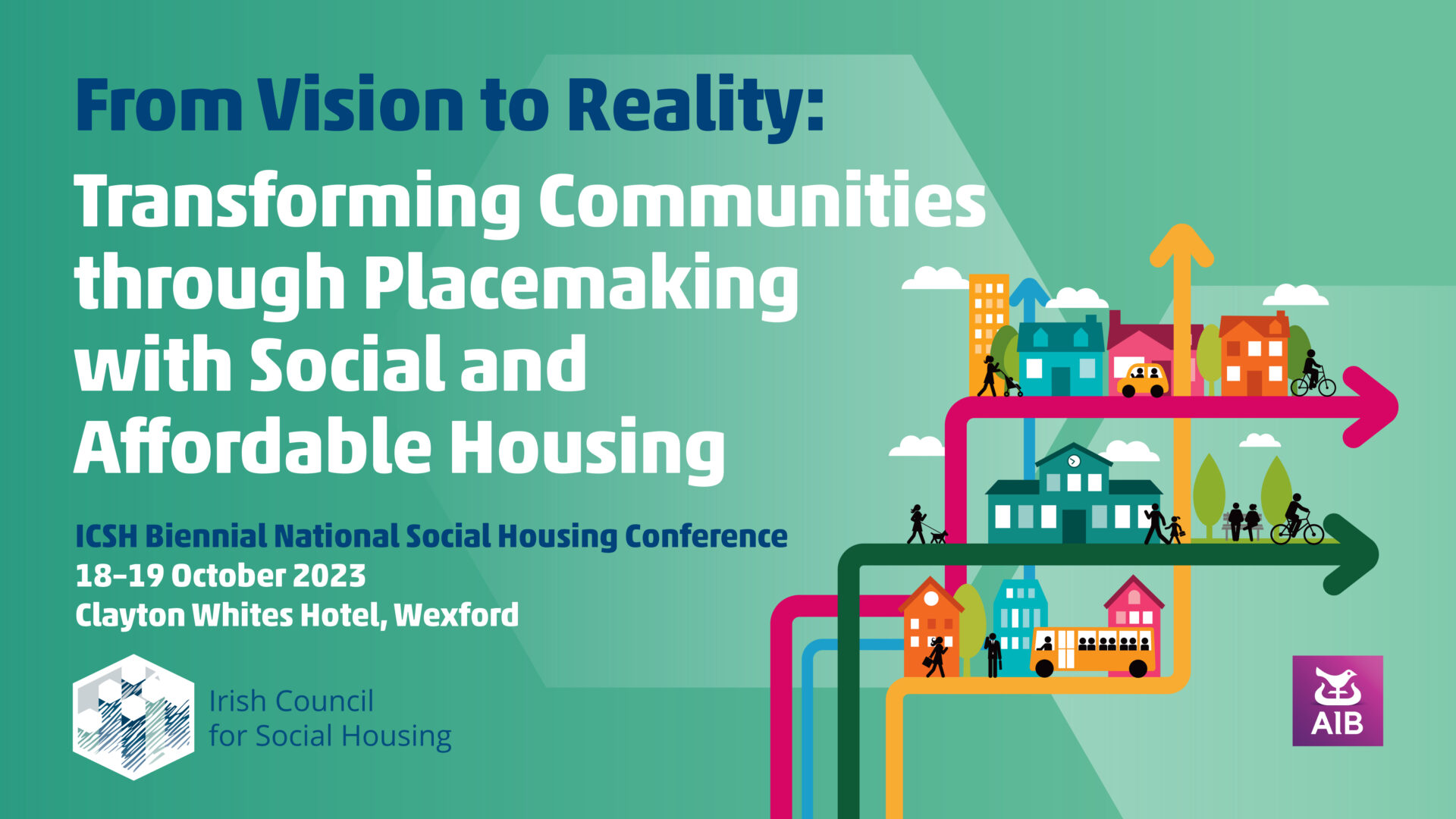 From Vision to Reality: Transforming Communities Through Placemaking with Social and Affordable Housing
18th & 19th October 2023 – Clayton Whites Hotel, Wexford
This year's ICSH National Social Housing Conference, From Vision to Reality: Transforming Communities Through Placemaking with Social and Affordable Housing, will take place in Clayton Whites Hotel in Wexford on October 18th and 19th. The focus this year is on placemaking and the role of social housing in creating vibrant communities, revitalising urban and rural neighbourhoods and adding value through innovative design, management, inclusion and engagement.
With the acute challenges of the current housing supply and affordability crisis and the policy backdrop of Housing for All providing the momentum and framework for much of the social housing sector's work, this conference will focus on the vital work that is being done in providing housing solutions. Examples of innovations and good practice from across Ireland will be discussed and expert speakers from further afield will present their experiences and their application to Irish housing challenges.
Now running for over 20 years, the ICSH National Social Housing Conference is a landmark event for housing professionals, leaders, innovators and stakeholders from the non-profit, public and private sectors.
Our expert line up of speakers and contributors will be announced in the coming weeks. As always, we hope that conference sessions will provide learning, provoke debate and inspire action.
Speakers and themes
Conference sessions will consider:
Building vibrant communities through social housing
The potential of planning changes
Combatting dereliction
European funds to drive innovation
Communicating the message of placemaking and social housing
Asset management and protecting investments
Cost rental and creating affordable housing options
Delivering housing with supports
Partnership working
Housing finance opportunities
Regulation and the future of social and affordable housing
Registration
Register your place at the conference here. Please take note of the booking terms and conditions, particularly in relation to payment and cancellation
Community Housing Awards
The winners of the 2023 Community Housing Awards, sponsored by Allianz, will be presented at the conference dinner on the evening of the 18th. The awards will be presented by RTÉ's Anne Cassin.
Accommodation
For those wishing to book accommodation now, Clayton Whites Hotel is now fully booked. The following hotels have rooms available.
Hotel
Phone
Location
Rate
Maldron Hotel Wexford
Ballindinas
Co. Wexford
Y35 E8KT
www.maldronhotel
wexford.com
(053) 917 2000
3.7km or 5 minute drive from conference hotel
€110 B&B per night single occupancy
€135 B&B per night double / twin occupancy
Crown Quarter
Monck Street
Wexford
Y35XC95
www.crownquarter.com
(053) 9121480
2 minutes walk from conference hotel
€99 room only rate – breakfast can be booked separately with the Clayton
Talbot Hotel Wexford
On the Quay
Wexford
Y35FP9P
www.talbotwexford.ie
(053) 9122566
8 minutes walk from conference hotel
€110 B&B per night single occupancy
€135 B&B per night double / twin occupancy

Limited rooms available at this ICSH delegate rate
If booking accommodation, please ensure you also book your conference place directly with the ICSH separately.