Calls for Expressions of Interest to Participate in the
2020 Tenant Satisfaction Survey
Many housing associations conduct their own tenant surveys as part of their internal performance management and tenant management process. The ICSH also collate data through HAPM that is useful to various stakeholders in the sector, including internally for the benchmarking of association performance and also as an illustration of performance and management to external stakeholders such as local authorities.
These metrics and the outcomes of individual tenant surveys show a well performing sector, effective housing and estate management and tenant satisfaction.
In 2017, the ICSH commissioned the first ever sector-wide tenant experience survey to ask housing association tenants across the country their views on:
their overall satisfaction with accommodation and service;
rating their housing association performance in key areas and tasks (such as repairs);
their experience of local housing issues; and to
evaluate the effectiveness of tenant support services where relevant.
Housing associations recognise the importance of listening to and responding to the tenant as their most important stakeholder. The ICSH and the member organisations that took part (both small and large housing associations) in the 2017 survey used these results as an important communication tool to highlight the experience of housing associations tenants. Specifically, the outcomes were useful in highlighting the role of housing associations as successful social housing providers and managers. The results are also instructive for individual associations that wish to continue to improve the quality of housing management services provided to tenants.
These previously collated metrics and outcomes of individual tenant surveys showed a well performing sector, effective housing and estate management and tenant satisfaction and help to resolve any misconceptions about housing associations and their tenants.
The ICSH feel it is essential to regularly consult with tenants on a sector-wide basis to highlight their experience of the sector as the most important stakeholder. This is particularly crucial in 2020, given the challenges that 2020 has posed for Housing Associations; and so another Tenant Satisfaction Survey is being commissioned by ICSH.
It is hoped that this survey will give an opportunity to tenants to give their views and build on existing metrics, using a representative sample of tenants from across each tier and from each housing category (elderly, low income family, disability, homelessness) to provide a robust indicator of the level of satisfaction among tenants in their homes.
The results of this survey would have a range of important uses in communications by the ICSH and its members on behalf of the sector, specifically promoting the role of associations as successful housing managers and also in advocating a further enhanced role. Each individual survey will also assist individual associations to further develop their existing tenant relations, regardless of their size and resources.
2020 Tenant Satisfaction Survey Aims
The overall aims of the 2020 survey are to support the sector by:
Identifying the overall satisfaction of tenants with their homes and the housing association (their landlord);
Ascertaining tenant views about the quality of current housing services and supports provided;
Ascertaining the impact of Covid-19 on housing services and supports;
Building a wider picture of the sector from the tenant's perspective and informing future areas of research.
Methodology and Outputs
The ICSH have a track record of managing tenant satisfaction surveys on behalf of members. It is proposed that the survey will be conducted by telephone as this generally provides a higher response rate than postal survey. Other advantages are that:
Telephone surveys are more cost effective;
Likelihood of response errors reduced;
Data can be collected and collated quickly
The objective is to achieve a 400 or 500 response survey to form a representative sample of all housing association tenants at standard confidence level and interval. A cluster sampling method will be used. An aggregated survey will be produced and disseminated by the ICSH to relevant stakeholders in the sector. Each participating organisation will also receive an anonymised report for each scheme that they provide (subject to the response threshold exceeding that which would not breach confidentiality). The survey will be quantitative in nature and the questionnaire will be designed in this way.
The goal is that the survey will be statistically robust at an overall level (the level at which the conclusions will be used), while the survey will also aim to show various levels of satisfaction in the four main sectors of social housing represented by the ICSH, namely elderly, disability, family and accommodation for those who were formerly homeless.
Data Protection and Anonymity
The survey is completely anonymous, with participating organisations receiving an anonymised report for each development they provide (subject to the response threshold exceeding that which would not breach confidentiality). It should be noted that the individual report will not be statistically robust, but may be useful to each association in terms of their performance management; particularly where another tenant survey has previously taken place.
Tenants who are contacted will have an opportunity to 'opt out' at the beginning of the call. All tenant data will be held securely and be password protected, and deleted at the end of the survey (not used for other research).
Questionnaire
The survey will be a standardised questionnaire to ensure validity. A draft is currently being prepared based on the 2016/2017 survey with some updates.
Proposed Sequence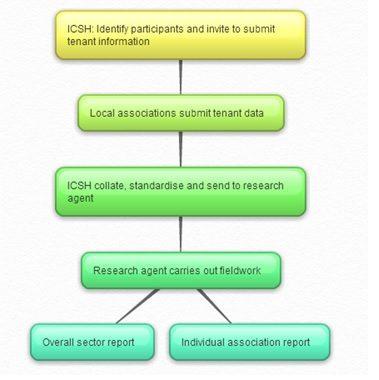 Why Take Part?
As well as providing valuable data on the sector as a whole, each participating association will also receive an anonymised report for their own tenancies where a certain threshold of respondents has been achieved.
Overall, this survey will provide up-to-date and useful information to a range of stakeholders and funders in the sector.
What do I need to do to take part?
To take part in this research, Housing associations should submit an expression of interest to ICSH to participate by Wednesday 9th September 2020. Please note that all expressions of interest may not be selected to participate in the research as there needs to be an even geographical spread and an adequate representation of the housing categories. ICSH will try to accommodate as many of our members as possible. Participating housing associations will then be requested to submit tenant information (name, address and contact number) to the ICSH.
As this research will be carried out by a research agent, it is best practice that participating housing association inform their tenants that the research will be happening and that they may be contacted to take part.
Contact Details
Please submit your expressions of interest by Wednesday 9th September 2020 to Keelin McCarthy, Development Specialist (Housing Management) in ICSH at keelin@icsh.ie