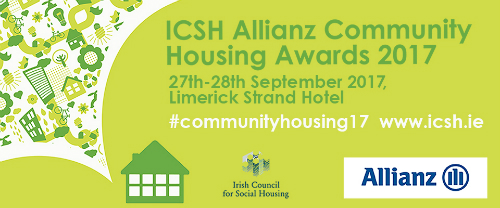 Fold Ireland's housing regeneration scheme at Ballygall Road, Glasnevin, Dublin scooped the overall winner award at the Irish Council for Social Housing's 8th Biennial Community Housing Awards, sponsored by Allianz, in the Limerick Strand Hotel on Wednesday 27th September. The awards, showcasing housing quality, innovation and partnership are open to housing associations, housing cooperatives and local authorities.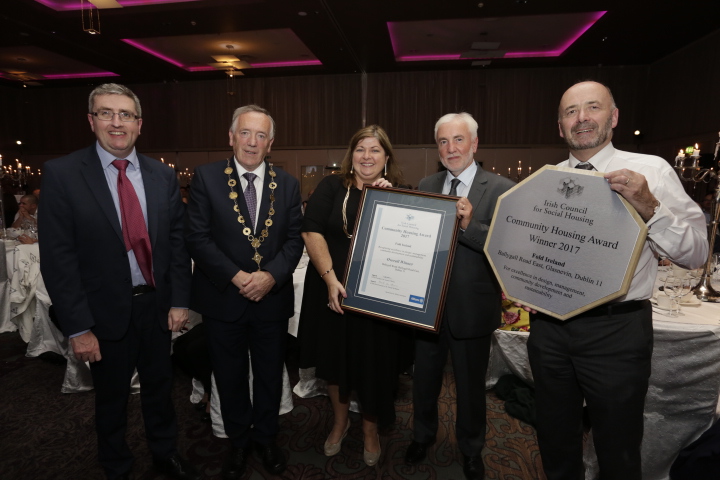 Dr Donal Mc Manus, CEO, Irish Council for Social Housing, Lord Mayor of Limerick Stephen Keary, Tina Donaghy and Peter Ayton of Fold Ireland and Justin O'Brien, ICSH President.The ICSH Biennial Community Housing Awards were supported by Allianz Insurance.
Speaking at the 2017 Community Housing Awards, Dr Donal McManus, Chief Executive of the ICSH said: "The ICSH would like to salute this year's winners as champions in the social housing sector, exemplifying the dedication and resilience of those working to provide affordable homes in Ireland. The winning project is an excellent example of how resourceful the housing association sector can be. Dublin City Council transferred the units to Fold Ireland and we now have 50 modernised and fully accessible apartments housing a community of older couples and individuals. By providing private finance for regeneration, Fold Ireland have been able to revive the 1969 housing complex, which is now a model for community integration and cohesion and one that can be replicated elsewhere."
Reflecting on this year's entries, Dr Donal McManus added: "Amongst the large number of entries, the number of homeless projects serves as a stark reminder of the immediacy of the housing crisis. The projects also demonstrate that both local authorities and housing associations are tackling the issue head-on and working collaboratively to provide short-term and long-term housing solutions for those most in need. In addition, with this year's new build projects, we are seeing best practice solutions in sustainability and cost effectiveness, delivering new housing for older people, people with disabilities and families. Housing associations are responding to the housing needs of a diverse population and the breadth of submissions to the 2017 Community Housing Awards reflects this."
Alongside the overall winner, seven additional projects have been awarded for their excellence in housing for older people, homeless projects, housing for people with disabilities, housing for families, collaboration initiatives, community integration and housing management.
The category winners were:
(Overall Winner) Regeneration: Fold Ireland, Ballygall Road East, Glasnevin, Dublin 11
Housing for Families: Túath Housing, Thornwood, Beaumount, Dublin 9
Housing for People with Disabilities: Tinteán Housing, Tinteán Willow, Carlow
Housing for Older People (Two Winners): St Vincent de Paul, St Micheal's Housing Scheme, Foxford, Mayo (Small Project Winner) and Respond! Housing John's College, Waterford (Large project Winner)
Community Integration in Housing: Clúid Housing Association, Syrian Refugee Resettlement, Portlaoise
Collaboration Initiatives: The Iveagh Trust, Annamore Court, Ballyfermot, Dublin 10
Homeless Projects (Two Winners): Dublin Simon, 33/36 Sean McDermott Street, Dublin 1 and Focus Ireland, Greenmount Close, Harold's Cross, Dublin 6W
Most Creative Supply Response: Waterford County Council, Ormonde Square
Special Recognition Award: St Vincent de Paul, Upperchurch, Thurles, Tipperary