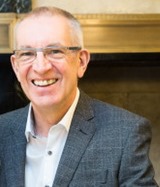 The Board of Clanmil Ireland are pleased to announce the appointment of Michael Haynes as its new Chief Executive. Michael took up his position on the 1st September.
Announcing the appointment, David Caird, Chair of Clanmil Ireland said; "We are delighted to welcome Michael to Clanmil. The Board looks forward to working with him as we seek to expand and to strengthen Clanmil's position as a leading provider of good quality housing."
Bringing with him a wealth of experience from senior executive positions in the Housing Sector in England, Michael has a background of working with organisations to add value whilst demonstrating a flair for developing, strengthening and leading management teams to maximise organisational performance and efficiency. Michael has an analytical thinking style and innovative approach to developing dynamic and progressive service delivery and is keen to quickly establish productive relationships within the Housing Sector in Ireland.