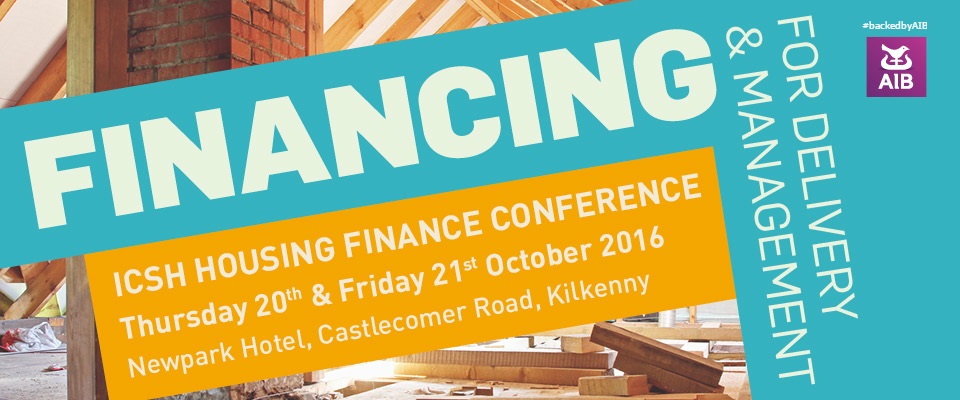 The ICSH Housing Finance Conference, backed by AIB, took place in the Newpark Hotel, Castlecomer Road, Kilkenny on 20-21 October 2016.
Presentations from the conference can now be downloaded below:
Landscape for Delivery & Value for Money

Kieran McQuinn, ESRI
John O'Connor, Housing Agnecy
Denis Ryan, OFfice of Government Procurement

Lending for Delivery
New Build / Models of Delivery & The Wider Impact
Taking Stock – Sustainable Asset Management

Pat McGovern, McGovern O'Brien Building Surveyors
Anne O'Meara, Circle Voluntary Housing Association
Wayne Gethings, The Wrekin Housing Trust
Kevin Burke, Respond! Housing Association

Supported Housing Delivery

Alison Ryan, HSE
Turlough O'Brien, Tinteán Housing Association
Councillor Nick Killian, Meath County Council

Regulation – Enabling Delivery

Brian Nevin, Housing Agency Regulation Office
Jason Murphy, Centrus

Commentary from Housing Associations

Cathal Callan, Clúid Housing Association
Gerry Wycherley, Galtan Limited
Lesley Jones, Grantstown Voluntary Housing Association

Innovative Housing Delivery – Financing Regeneration & Stock Transfer
The ICSH Housing Finance Conference has firmly established itself as the leading finance focused event for housing practitioners. Since its establishment in 2008, the event has grown from strength to strength and has been to the forefront in addressing the significant changes in the financial operating environment for housing associations.

This year the Conference explored the provisions within the Government's recently published Action Plan, 'Rebuilding Ireland', and addressed and linked the Financing, Delivery and Management challenges in meeting expectation and ambition towards a more appropriate housing supply. In fulfilling delivery requirements, the Conference explored the financial rightsizing of the sector, looking at new state funding investment, loan finance mechanisms — including lender requirements — while also addressing innovative strategic funding options to address off balance sheet requirements. With high delivery expectations, the conference linked financial arrangements to explore a range of delivery options to accelerate provision with key stakeholder perspectives from both the public and private sector on potential collaborative and supportive delivery arrangements, and the need to deliver value for money. The conference explored housing management practices in meeting special needs accommodation provision, and also asset management requirements from regulatory and operational perspectives, drawing on good practice and experiences from Ireland and abroad.
ICSH Member Video Showcase
A number of videos specially commissioned by ICSH were showcased at the conference. The videos profile the work of some of our member organisations.
Irish Council for Social Housing Member Profile: Oaklee Housing
Irish Council for Social Housing Member Profile: North & East Housing Association
Irish Council for Social Housing Member Profile: Clúid Housing
Irish Council for Social Housing Member Profile: Respond Housing Association
Irish Council for Social Housing Member Profile: Túath Housing Association