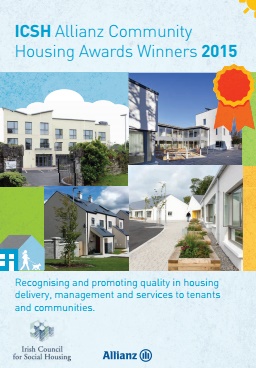 The ICSH Community Housing Awards 2015 sponsored by Allianz Insurance, were announced at the ICSH biennial Social Housing Conference dinner in the Tullamore Court Hotel, Tullamore in September 2015. To commemorate the Awards, the ICSH have produced a keepsake of the winning projects.
The 2015 competition marked the 7th biennial awards having been in existence since 2003 and as with previous years the standard of projects was exceptionally high, demonstrating the sectors commitment to deliver the highest quality housing. The ICSH believe the Community Housing Awards truly highlight the ongoing achievements of the social housing sector in consistently developing high quality projects and delivering new and innovative housing initiatives.
We would like to take this opportunity to thank all the housing associations and local authorities throughout the country who took part in the Awards and allowed us to showcase their projects and we commend the work of all the entries and congratulate the winners of their achievements.