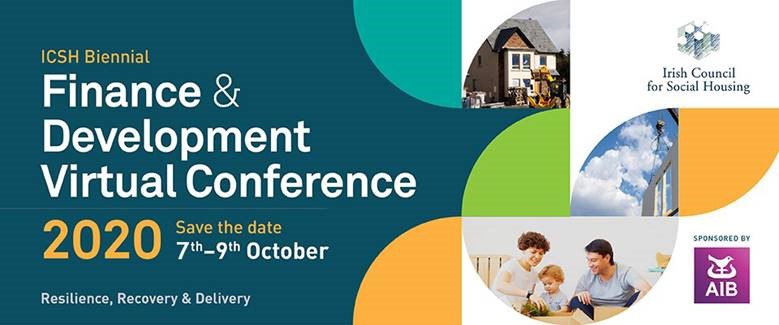 RESILIENCE, RECOVERY & DELIVERY
The 2020 ICSH Housing Finance and Development Conference, sponsored by AIB, will be our 7th such conference and the first one delivered entirely online. The two year period since our last Finance and Development Conference has been a time of unprecedented change as Ireland and the world deals with the aftermath of the initial Covid-19 emergency and the ongoing ramifications of the pandemic. As we emerge from a period of restriction, disruption and uncertainty, this conference will look to a new normal where innovation and new financial approaches underpin the sector and offer hope for the future of housing delivery. At a national level, housing practitioners must also contend with an uncertain economic outlook as well as a changing policy context with the implementation of the new Programme for Government.

This year's conference will again serve as a vital platform for new thinking and innovations in the housing sector and will focus on themes of Resilience, Recovery & Delivery. It will take an in-depth look at some of the finance and delivery innovations that have emerged in recent years to tackle the housing crisis and allow for discussion and debate on these key issues.

The conference will, yet again, bring together leaders and innovators from the public, non-profit and private sectors, with speakers from all around Ireland, Europe, the USA and Australia to present their experience, best practice, innovations and learnings.

CONFERENCE DELIVERY
The conference sessions will all be delivered online through Zoom and will involve a mix of studio discussion and remote access among speakers and panellists. Audience questions and discussions will be facilitated at each session.


WHO SHOULD ATTEND
Board members of housing associations and cooperatives
Housing association staff involved in finance, development & management
Local authority staff involved in housing, financing and delivery
Construction industry representatives
Investors and financial bodies
Legal and financial advisors
Local elected representatives
EU Managing Authorities
Government departments
HSE officials including support providers
Academics and those interested in housing finance and delivery

We'll hear from key Irish and international contributors on sessions such as:
Financial landscape and fallout from Covid-19
Reaching Housing Delivery Targets in the Covid Operating Environment
Financial solutions, learnings and risk
Housing affordability options
Community living for older people, alternatives to institutional and residential care
Regulation and sustainability
Building the Landscape for Sustainable Development, Financing Policy and Practice

Key speakers and contributors include with more speakers to follow:
Minister Darragh O'Brien, Minister for Housing, Local Government and Heritage
Caitlin McDowell, Head of Policy, Community Housing Industry Association, New South Wales
James Benson Director of Housing, Planning and Development, Construction Industry Federation
Hazel Chu, Lord Mayor of Dublin
Paul Kelly, Director, Real Estate Finance, AIB
Robert Grundy, Head of Housing Investment and Consultancy, Savills
Sorcha Edwards, Secretary General, Housing Europe
Declan Dunne, CEO, Respond
Sharon Cosgrove, CEO, Oaklee Housing
Eddie Taaffe, Housing Delivery Office, Local Government Management Agency
Sean O'Connor, Chief Executive, Tuath Housing
Margaret Geraghty, Director of Housing, Fingal County Council
Sean Cremen, Head of Treasury, Housing Finance Agency
Patricia Gruits, Senior Principal and Managing Director, MASS Design Group, Boston, USA
Frank Allen, Financial Consultant and Chair, Iarnród Eireann
Pat Doyle, ICSH President and CEO, Peter McVerry Trust
John O'Connor, Chief Executive Officer, Housing Agency
Tina Donaghy, Director of Development, Fold Ireland

FEES
The conference is free to attend. In recognition of the extraordinary financial burden that the Covid-19 pandemic has placed on housing providers and stakeholders, the ICSH does not wish to place any financial barriers towards attending this event. We hope that the shared learnings from this event can be accessed by as wide an audience as possible and will contribute in some way to the sector's resilience and recovery.

If you would like to make a contribution towards the running costs of the conference, please contact Catherine McGillycuddy at catherine@icsh.ie to discuss.


BOOKING
Although the conference is free to attend, pre-booking is essential. To book a place at the conference email catherine@icsh.ie.

Please note that in booking a place, your name and email address will be shared with AVC, our audio-visual partner in organising this conference. Your details will be used only for the specific purposes of registering you for conference sessions and being provided with the Zoom link to access the event. It will not be used for any other purposes and will be used in line with GDPR at all times.
Join the conversation #icsh2020