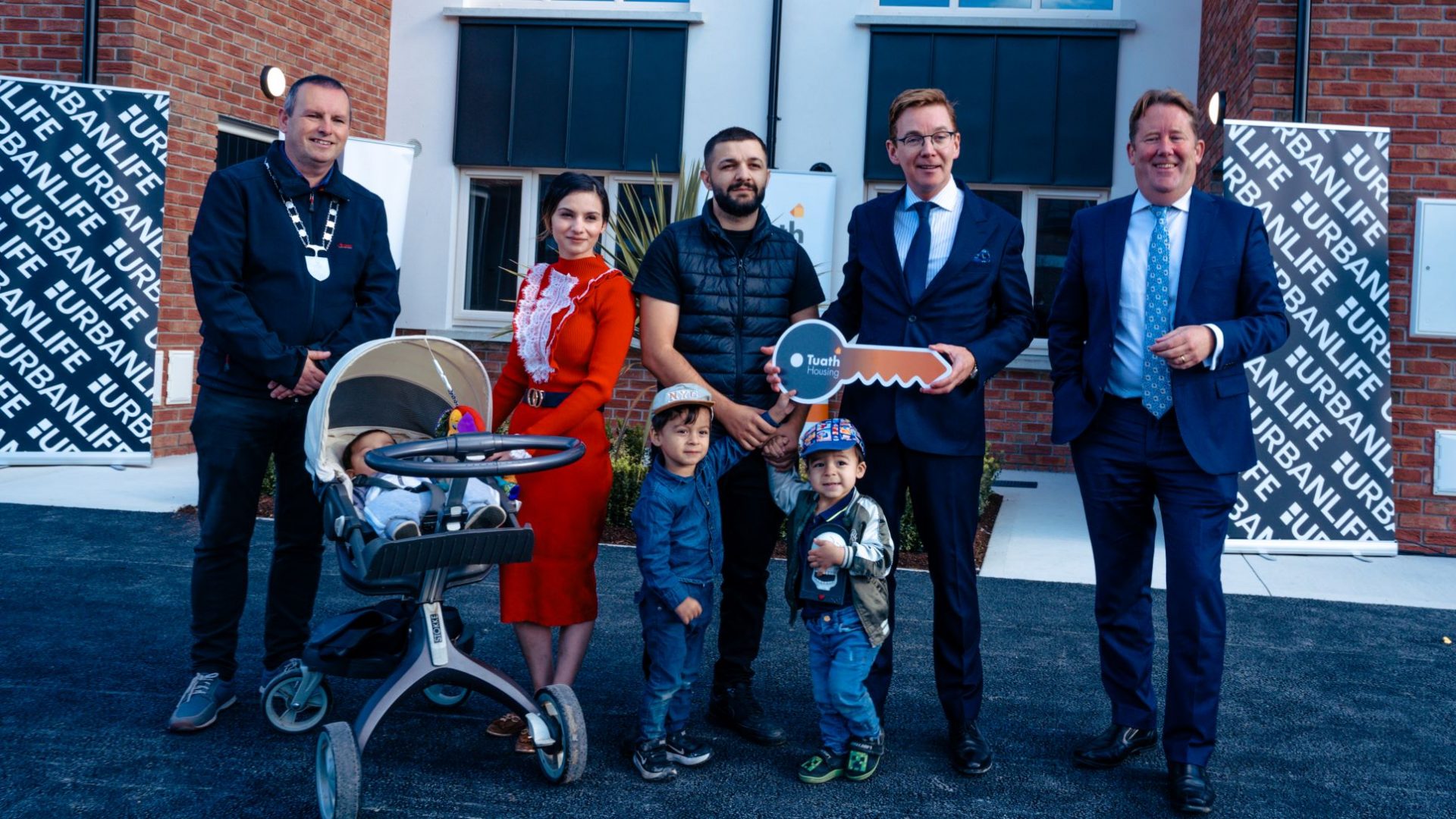 The Minister for Housing, Local Government and Heritage Darragh O'Brien today officially opened a new development delivered by Tuath Housing in partnership with Louth County Council at Cathedral View in Dundalk.
To date, 42 homes at Cathedral View have been delivered by Tuath Housing and are being allocated to people from Louth County Council's housing waiting list. Tuath is delighted to be working in partnership with the Council and developers Urban Life on this standalone development which consists of 14 x four-bed homes, 28 x three-bed homes and 23 x two-bed homes. These new homes are being funded via private finance from the Housing Finance Agency and a loan from the Department of Housing. The average cost of a home in the development was approximately €240,000, meaning these high-quality A rated family homes represent excellent value for money. Cathedral View is conveniently located less than a kilometre from Dundalk town centre along the Ramparts Road and is adjacent to the Marshes Shopping Centre.
Tuath delivered its first homes in partnership with Louth County Council back in 2007 in Ardee and now has over 1,500 residents in the county. The approved housing body has continued working with the local authority to deliver over 560 homes throughout Louth with a further 380 homes in the pipeline. Tuath currently has over 7,700 homes in management nationwide and will deliver 1,700 homes in 2021.
Commenting Minister O'Brien said, "It's my absolute pleasure to officially open Cathedral View where Tuath and Louth County Council, with the support of my Department, are delivering 65 high quality new social homes. Housing for All, our new housing Plan for Ireland, sets us on a pathway to significantly scaling up these type of housing developments. Between now and the end of 2030 we will deliver 90,000 much needed social homes for those on the social housing waiting lists. Housing developments such Cathedral View are about more than just bricks and mortar, they are about providing sustainable communities allowing people to live independently, comfortably and safely in secure surroundings. I want to wish the new residents the very best of good luck as they begin their lives in the new homes," he concluded.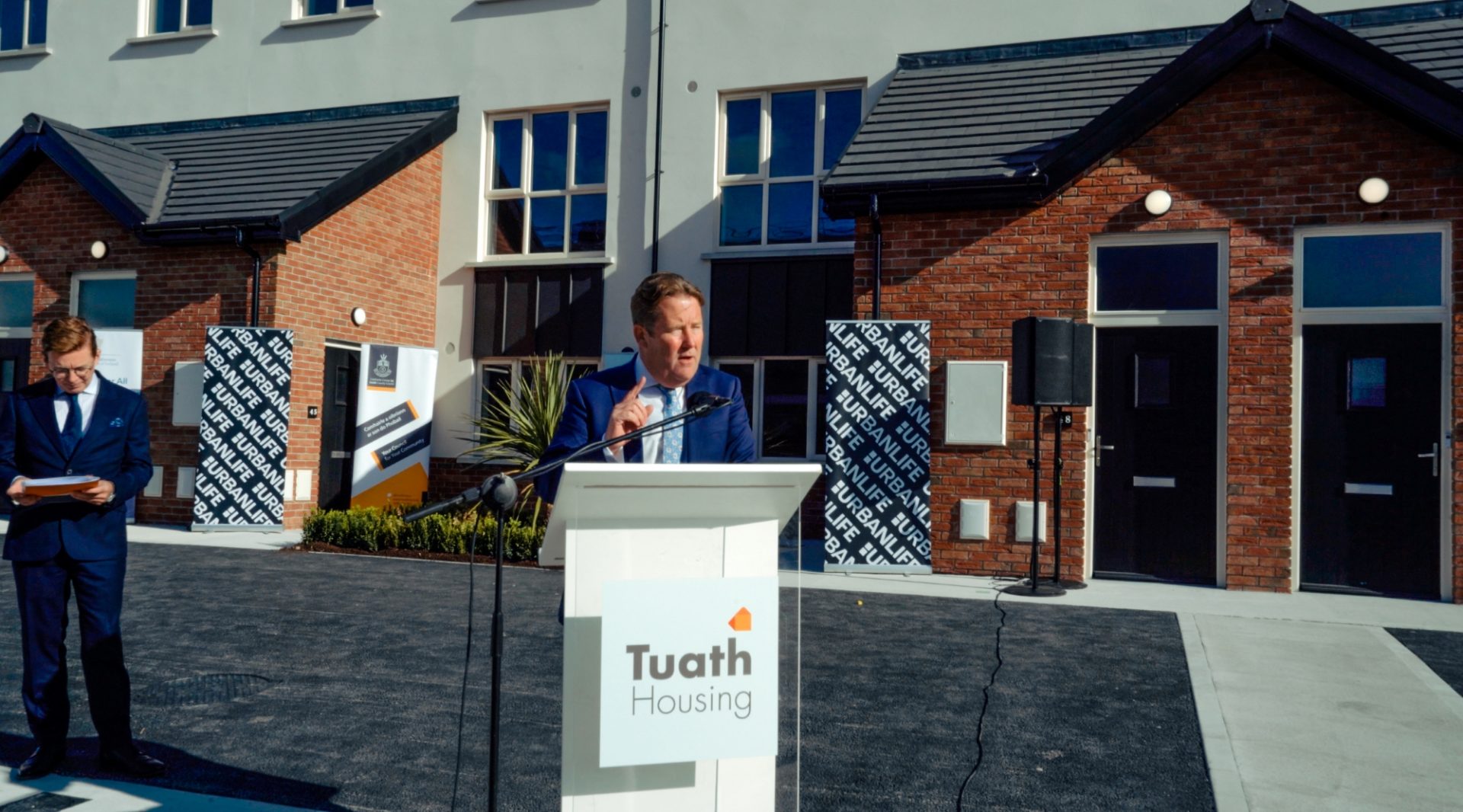 Paddy Donnelly, Louth County Council Director of Services for Housing, Community and Quality of Life, said "Louth County Council are delighted to have had the opportunity to collaborate with Tuath Housing and the developer Urban Life in bringing delivery of this quality housing project on a key brownfield site close to the town centre. The development offers the new occupants town centre living in well-appointed modern energy efficient housing units that are lifelong homes close to all amenities including schools both primary and secondary shopping and leisure facilities and ready access to public transport routes. We wish the families and individuals who now call Cathedral View home every good wish as they begin to create a new town centre community. We also look forward to continuing our relationship with Tuath Housing and Urban Life in delivering on many more such projects across the County."
Barry O'Leary, Chief Executive Officer of the Housing Finance Agency commented "The HFA is delighted to support this substantial new development at Cathedral View which will provide much needed homes for families in Dundalk. We will continue to provide competitively priced long term fixed rate finance to Tuath, and others in the sector, to support the strong delivery of social and affordable homes across the country."
Daragh O'Sullivan, Chairman of Tuath Housing noted "Today we celebrate the opening of these safe and secure homes in county Louth as we look to the Government's new 'Housing for All' strategy which provides a renewed strength and commitment to delivering more homes across the country. It is an important reminder for us to continue to work with our Local Authority partners like Louth County Council to play our part in ensuring that more people can have a safe place to call home. We wish all the new residents in Cathedral view happy healthy lives in their new homes and we look forward to continuing our partnership with Louth County Council to provide more homes for more people.".
About Tuath:
Tuath Housing are a not-for-profit approved housing body, providing long-term, safe, quality housing. The organisation currently has over 7,700 homes under management and are active in every county throughout Ireland. www.tuathhousing.ie